Garrison, Joyce's Bloomsday, & Thou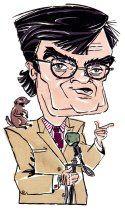 Most people miss the link between the June 16 Bloomsday, which was coined 88 years ago in the James Joyce novel "Ulysses," with Spokane's Bloomsday, which involves 50,000 people running 12 kilometers around town on the first Sunday in May. Garrison Keillor is no exception. Keillor, a nationally acclaimed oral storyteller, led the cast and musicians of his National Public Radio show as they performed two hours of skits and songs to the obvious delight of 5,300 people who nearly packed the Arena's Star Theatre. Midway, Keillor devoted 4 minutes to a monologue highlighting Spokane life. But he made an error that begs to be corrected. In mentioning the city's signature events, such as Hoopfest, he noted that "Bloomsday does not refer to James Joyce's novel, 'Ulysses,' but to the lilacs" that bloom in spring. Wrong/Rich Landers, SR. More here.
Question: What do you like most re: Garrison Keillor's show, "A Prairie Home Companion"?
---
---