Mon., June 21, 2010, 1:09 p.m.
Hydroplane Exhibition Set On Lake CdA
Posts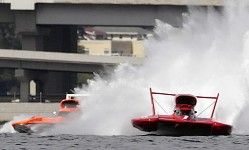 Kerri Thoreson/More Main Street: "This morning on the air (for KVNI), I announced the return of the hydroplanes to Lake Coeur d'Alene for an exhibition to benefit the Museum of North Idaho. For anyone who lived here back in the 1960s, the races were an exciting event for the community, definately part of the Lake City's colorful history. The museum is currently featuring Hydro Fever displays and the vintage unlimited hydroplanes will appear in Coeur d'Alene August 20-22 in conjunction with the display." (AP File Photo: Miss Budweiser and Miss Elam Plum in action on Lake Washington.)
Question: Could this be a back-door attempt to bring unlimited hydroplane racing back to Lake Coeur d'Alene?
---
---