Mon., June 21, 2010, 4:10 p.m.
MT: Deputy Deal Unravels In St. Maries
Finding a cop may be a problem for tourists on some parts of Lake Coeur d'Alene. Boaters who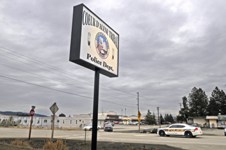 put others at risk - like those who drink excessively - may not be held accountable. Elsewhere in Benewah County, Coeur d'Alene tribal cops may stop but not detain an intoxicated driver if he's not a member of the Coeur d' Alene Indian Tribe. Same goes for nontribal members accused of domestic abuse. If a representative of the Benewah County sheriff's office doesn't show up, tribal cops have little recourse but to release the suspect. All of which was supposedly resolved months ago, long before the summer tourist season began/Marty Trillhaase, Lewiston Tribune. More here.
Question: Anyone surprised that the cross-deputization deal cut with the Coeur d'Alene Indian Tribe unraveled once lawmakers adjourned and the pressure was off the Benewah County?
---
---