THURSDAY, JUNE 24, 2010, 9:45 A.M.
Summer Theatre Takes 'Bee' To Moscow
In what is hoped to be just the first of many co-productions with Idaho Repertory Theatre, the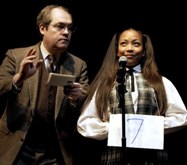 Coeur d'Alene Summer Theatre will present five performances of the musical "The 25th Annual Putnam County Spelling Bee" in Moscow next week to open the IRT season. Performances are 7:30 p.m. Monday-Friday at the Hartung Theatre on the UI campus. Kelly Quinnett of the University of Idaho theatre department, who will be co-creative director of IRT next year, said she and "Spelling Bee" director Roger Welch had talked about doing a co-production for years and that things finally fell into place/Alan Solan, Moscow-Pullman Daily News. More here. (SR Photo/Kathy Plonka: Scene from "The 25th Annual Putnam County Spelling Bee" with Reed McColm and Yvonne Same)
Question: Are you a fan of the theater?
---
---