Fri., June 25, 2010, 1:21 p.m.
Beware: Ironman Crossing
First, I need to say that I (heart) the fact that Coeur d'Alene hosts an Ironman event each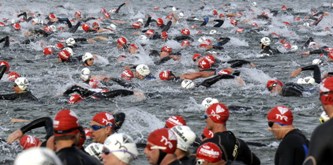 summer. Now, let's discuss the crazed triathlete that we must endure for weeks up to the event. On my Facebook page, one commenter had this close encounter w/a rude triathlete this morning: "Driving onto (North Idaho College) campus this morning, I rolled down my window and reminded a jaywalking Ironman that it was safer in the crosswalk he was ignoring ... got a less than pleasant response -- so much for the runners high!" Another recommended: "During the weeks prior to Ironman, drivers need to ramp up their bike watch game. Realize these stealth athletes are in camo and travel at 3 times the average biker speed. Look 6 times at the intersections." (SR File Photo: Dan Pelle, from 2009 Ironman Coeur d'Alene)
Question: Have you had a close encounter w/a crazed Ironman contestant this month?
---
---