Sat., June 26, 2010, 6:20 a.m.
Adam: Idaho Doesn't Need A Militia
Even if you believe in militias, this is a stupid move that will be misinterpreted. The term "militia" has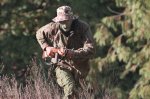 become synonymous in the minds of quite a few voters as a bunch of crazy folks who want to overthrow the government. You pass that resolution and Democrats will be out in the streets telling all their friends, the Republicans want to violently overthrow Obama. Now, I know many people will say, "Who cares what the left says?" I'm not someone who worries that liberals don't like us. That's not the issue. The issue here is not whether people like us, or whether they're saying nice things, but whether we're handing them a stock of ammunition, standing in front of them in our skivies and saying, "Fire when ready"/Adam Graham, Adam's Blog. More here. (SR File Photo of North Idaho militia exercise)

Question: Would the Idaho GOP become a national laughingstock, if it passes a convention resolution in support of establishing a state militia?
---
---