Mon., June 28, 2010, 3:28 p.m.
David: Why I Don't Attend Hoopfest
The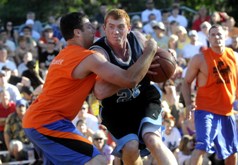 biggest reason we have studiously avoided Hoopfest all these years, however, is that I develop a severe rash of a most private nature when I am in a vast warbling mass of unwashed people, regardless of their intentions or why they came together. Yes, I admit it. I get a severe rash on the forefront of my brain just thinking about 30,000 plus strangers in close proximity to me and mine. Give me a quiet afternoon sitting out back in the Virtual Garden watching the Garden Gnomes and a few closely-held friends celebrating the ripening strawberry plants and the serenity of the rose bushes/David Laird, Community Comment. More here.
Cutline: Former Gonzaga standout David Pendergraft of Team Tonix is guarded close as he drives to the basket by Clint Hordemann of Team Bam Jam of Boise. Team Tonix defended their Hoopfest Men's Over 6' championship with a convincing 20-11 win. (SR Photo: J. Bart Rayniak)
Question: Do you enjoy/avoid attending events that attract a lot of people, like Hoopfest, Ironman Coeur d'Alene, and the Coeur d'Alene 4th of July fireworks display?
---
---