Tue., June 29, 2010, 1:06 p.m.
P-I: GOP Confab Was 1 Giant Tea Party
The state convention of Idaho Republicans turned into a big Tea Party last weekend, with a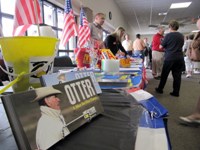 platform that calls for repeal of the 17th Amendment to the U.S. Constitution, which provides for direct election of U.S. Senators. The platform also calls for state legislators and the governor to "nullify any and all existing and future unconstitutional Federal mandates and laws, funded or unfunded, that infringe on Idaho's Tenth Amendment sovereignty." ... "If the state's Senators had to be accountable to the State Legislators instead of to the people at large, Senators by and large would be much more in tune to the interest of the states as opposed to interest of people," Bryan Smith, a GOP legislator from Bonneville County, told the Idaho Falls Post-Gazette/Seattle P-I Blogs. More here. (AP photo of GOP convention: Jesse L. Bonner)
Question: Who would you rather have the Idaho Legislature pick Idaho's U.S. senator or Idaho voters?
---
---