MONDAY, MARCH 29, 2010, 11:58 A.M.
High Noon: Earth Hour Sparks Hubbub
Global warming protesters generated a lot of heat Saturday night at the entrance to Spokane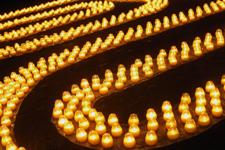 City Hall. It looked for a while like candle-carrying environmentalists might come to blows with those who contend global warming is a hoax perpetuated by the United Nations. But the situation cooled a bit when police showed up and stood in the background. "We are law-abiding citizens, trying to have a peaceful protest here," said conservative activist Mike Fagan, who was frustrated as an environmental protester repeatedly interrupted the speech he was trying to deliver through a bullhorn. The opposing sides were drawn to City Hall in response to Earth Hour, an international effort to draw attention to environmental concerns and call for a binding pact to cut greenhouse gas emissions/Dan Hansen, Special to Spokesman-Review. More here. (APhoto/Thibault Camus: Candle lights are seen during the Earth Hour in Paris Saturday)
Question: Did you observe Earth Hour Saturday night? Or did you even know it'd come and gone?
---
---