Tue., May 4, 2010, 8:20 a.m.
Idaho Congress Hopefuls Use Social Media
With the commander-in-chief utilizing Twitter, the effects of his presence can be felt down the line of the federal government, and even here in Idaho, where most of the major candidates for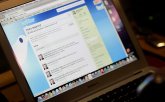 Congress utilize the services of Facebook or Twitter or blogs.  Congressman Walt Minnick, a Democrat representing Idaho's 1st District, has two Twitter accounts, one for his official congressional office and one for this campaign team.  The two men vying to challenge him, state Rep. Raul Labrador, R-Eagle, and Vaughn Ward, a Marine reservist, both have Twitter accounts through which they post links to press releases and news articles favorable to their respective campaigns. Of all the congressional candidates in Idaho, Ward has the largest presence on Twitter, with 685.  Labrador trails Ward by 180 followers.  Minnick, on his campaign Twitter account, has 153 followers.   All three contenders have campaign pages on Facebook.  None of the men utilize blogging services, but Ward's wife, Kirsten, authors a blog on his campaign site updating followers on the happenings of the campaign trail/Dustin Hurst, Idaho Reporter. More here.
Question: Do you expect the social media to have an impact in Idaho elections this year?
---
---