Wed., May 5, 2010, 8:50 a.m.
Otis G: Saying Goodbye To Skateboarding
I'm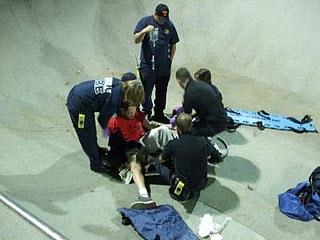 still not sure why, but my board flipped out from under me. When I hit the transition, I felt something slide in my knee. As I lay there assessing the situation, Brent asked what I thought was wrong. At that point, all I knew was that it felt really weird... and my foot was pointing in the wrong direction. "I think my knee came out of joint. Maybe I can twist it back." "Dude... if you can get yourself out of this pool, then I could get you to the hospital... and you won't have to pay for an ambulance." I was immediately feeling the weight of hospital bills. Skipping the ambulance sounded good, so I did probably the worst possible thing - and tried twisting my leg back into joint. After feeling a couple snap crackle pops, I decided that probably wasn't a good idea. "I'm not going to make it out. Call 911"/Otis G Experience. More here.
Question: Did an injury force you to give up a sport or activity that you enjoyed as a youngster? And/Or: What's the worst sports injury you've suffered?
---
---