Thu., May 6, 2010, 8:34 a.m.
Big Cups Of Coffee Need TLC To Finish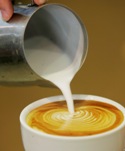 I've consumed a lot of coffee the last couple of days, hanging out with my kids in Cour d'Alene and Spokane. I always order coffee, never the mochas or sundry other drinks offered at the various coffee shops, in sizes from 8 ounces to 20 ounces. Usually, I ended up drinking the last half of the 20-ouncer cold, if i finished the drink at all. On Facebook, Cindy wonders about the need to have big cups of coffee in the morning: "Theoretically," Cindy says, she "likes the idea of BIG coffee cups, but finds the coffee gets cold quickly. So, she fills the cup half full, and then wonders what is the point of having a BIG cup?
Question: What size of coffee drink do you order at your favorite coffee shop? Or what size of cup do you use for your own brew at home? Any secrets for keeping the coffee warm?
---
---