Fri., May 7, 2010, 10:04 a.m.
Betsy: How NIdaho Differs From SIdaho
What's the difference between North Idaho and southern Idaho? Well, there's that whole water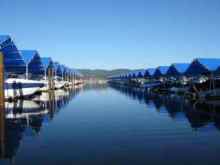 thing. This is Lake Coeur d'Alene this morning, amid country that's so different from the arid south. And then there's the wild GOP politics in Kootenai County, where the once heavily Democratic region is now heavily Republican, particularly in fast-growing areas like Hayden that are filling up with newcomers who never saw the old North Idaho Democratic politics. In these parts, there are the Republicans, the Reagan Republicans, the Pachyderm Clubs, the social conservatives, the constitutionalists and a whole lot more/Betsy Russell, Eye On Boise. More here.
Question: Besides beauty and mebbe politics, how do you think North Idaho differs from southern Idaho?
---
---