Wed., May 12, 2010, 1:34 p.m.
Blog: M's Dis Griffey-Sleep Reporter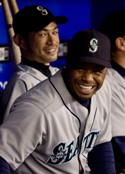 Twenty-two years into the Mariners beat, things have gotten a little difficult for News Tribune reporter Larry LaRue. It was LaRue who reported on Monday that Mariner Ken Griffey Jr. was snoozing during Saturday's game against the Angels, spawning nationwide coverage and local disappointment in one of the team's most promising players. And a case of the cold shoulder. After a players-only meeting Tuesday, Mariners players refused to talk to LaRue, with pitcher Cliff Lee going as far as to interrupt a news conference until LaRue left the room, ESPN and other media have reported/Monica Guzman, Seattle P-I Blogs. More here. And LaRue's story today here.
Question: Do you think more or less of the Mariners for giving the cold shoulder to the Tacoma News-Tribune reporter who reported that Ken Griffey Jr. was recently sleeping in the clubhouse while the team needed a pinchhitter?
---
---