Thu., May 13, 2010, 8:54 a.m.
Arizona Limits School Ethnics Studies
Fresh on the heels of a new immigration law that has led to calls to boycott her state, Arizona's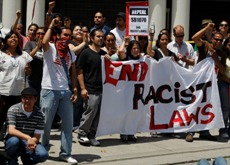 governor has signed a bill banning ethnic studies classes that "promote resentment" of other racial groups. Gov. Jan Brewer approved the measure without public statement Tuesday, according to state legislative records. The new law forbids elementary or secondary schools to teach classes that are "designed primarily for pupils of a particular ethnic group" and advocate "the overthrow of the United States government" or "resentment toward a race or class of people." The bill was pushed by state school Superintendent Tom Horne, who has spent two years trying to get Tucson schools to drop a Mexican-American studies program he said teaches Latino students they are an oppressed minority/CNN. More here. (AP Photo: Immigration rights demonstrators in Los Angeles protest Arizona's new immigration law last week)
Question: Do you support or oppose a boycott of Arizona as a result of steps its taken re: immigration and ethnic studies?
---
---