Thu., May 13, 2010, 11:55 a.m.
High Noon: Getting Lost & Back Again
To say that I am geographically challenged and directionally impaired might be an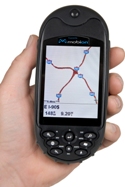 understatement. I've been lost in every city, town, state and country I've ever lived in or visited. Yes, you can get lost in Ritzville. It's difficult but not impossible. Don't get me wrong  ... I can read a map. I can plot routes, identify highways, parks and mountain ranges. The difficulty comes when I try to integrate map knowledge with driving skills. From my front yard I can point out north (Mount Spokane), south (St. John's Cathedral), east (Coeur d'Alene) and west (Seattle). However, once I'm in the car, things get a little fuzzy. After all, it wasn't until I was in middle school that I could do the hokey pokey with any kind of accuracy. The whole right, left thing puzzled me. Your right or my right? Huh?/Cindy Hval, Washington Voices. More here.
Question: Do you get lost often, when you're behind the wheel? Or do you have a homing device that usually gets you to the right place?
---
---