Wed., May 19, 2010, 12:04 p.m.
Hi-Noon: That Sad Look From Dentists
On Facebook, sidekick CindyH posted this morning that she was on her way to the dentist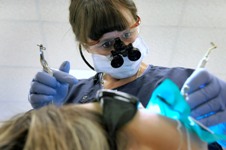 "which isn't fun anymore since they won't give me nitrous oxide for routine cleanings. Then there's the lying about flossing. This time I'm going to tell the truth." Which prompted another commenter to post: "Look. I don't floss unless I'm trying to cram for this dental exam. I know I should. I'm a bad person. Blah. Blah. Blah. I should floss more. Noted. Let's move on." To which, Cindy responded: "It's the sad look of disappointment that's hard to deal with. I mean I only see these people twice a year, but I crave their approval. And a prize from the treasure box." (SR File Photo for illustrative purposes)
Question: Do all dentists give patients that sad look, even once in awhile, to make us feel bad re: not doing all we can do to protect the pearly whites?
---
---