Thu., May 20, 2010, 2:17 p.m.
Daily Beast: St. Maries 3rd Most Polluted
This is one of those times when you don't feel so good about being in the top 5. Inspired, so to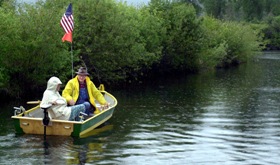 speak, by the ever-morphing-but-consistently-disgusting saga of the gulf oil spill, The Daily Beast decided to find America's most toxic communities. Idaho's very own St. Maries community ranks third based on a couple of factors and some college-level math. St. Maries sits on the banks of the St. Joe River, renowned for its world-class fishing. Recently, it was discovered that a harmful pollutant had been slowly spilling into the river and surrounding soils for decades. Over 200 tons of contaminated soil had to be removed. Is there good news? Kinda. The private companies responsible just signed a cleanup agreement in February 2010. Could there possibly be more bad news? Yeah. Remember this last legislative session when the state cut all funding for water quality monitoring?/Sara Cohn, Idaho Conservation League. More here. (SR File Photo of couple on water by St. Maries)
Question: Aren't you proud to have this almost in our back yards?
---
---