Fri., May 21, 2010, 11:28 a.m.
Daily News: Otter Right In This Fight
Idaho Gov. C.L. "Butch" Otter's frequent spats with federal agencies are often misguided. But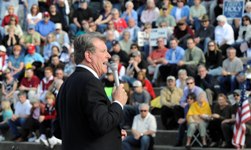 his latest dustup is spot on. Otter has taken exception to a Salmon-Challis National Forest official's decision to deny an Idaho Public Television request to send a lone cameraman into the Frank Church River of No Return Wilderness Area for educational-filming purposes. Specifially, IPTV wants to film about 15 participants in a Student Conservation Association program meant to train future land managers, according to an Associated Press report. The footage would be featured in an "Outdoor Idaho" program/Doug Bauer, Moscow-Pullman Daily News. More here. (SR File Photo: Otter at Spokane Tea Party rally April 15)
Question: Do you think Gov. Butch Otter is right on or off-the-wall re: most of his dust-ups with the federal government?
---
---