Fri., May 21, 2010, 12:09 p.m.
Hi-Noon: Sarah & 'Lamestream Media'
Former Alaska Gov. Sarah Palin had harsh words for the "lamestream media" and the liberal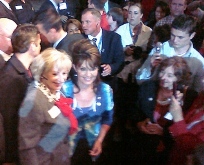 left as she gave an enthusiastic speech rallying voters for GOP congressional candidate Vaughn Ward in Boise today. "The left and some of the lamestream media, they can really play dirty sometimes, trust me on this one, I know this one," Palin told a crowd of about 1,500 at the Qwest Arena in downtown Boise. Ward, who headed the McCain-Palin presidential campaign in Nevada in 2008, is facing state Rep. Raul Labrador, R-Eagle, in Idaho's primary election on Tuesday for a chance to challenge freshman Democratic Congressman Walt Minnick/Betsy Russell, Eye On Boise. More here. (Joe Jaszewski photo for HucksOnline)
Question: Do you think the media is 'lamestream'? And/Or (from Idaho Reporter): When has the media reported false info re: Vaughn Ward?
---
---