Mon., May 24, 2010, 1:27 p.m.
Kellogg Vets Move Ahead w/Recall
An empty flagpole standing in the middle of Kellogg's Memorial Park symbolizes a months-long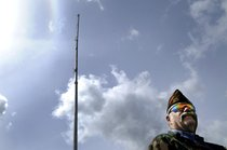 dispute between veterans and city leaders that has escalated into recall petitions being filed against the mayor and all six City Council members. The flagpole formerly displayed both the American flag and a Tree City USA flag, until the commanders of Silver Valley veterans groups informed the city in August that flying both on the same pole was improper. The flags flew above a veterans' memorial dedicated to the city more than 50 years ago. The stone memorial embedded with a plaque honored veterans of the two World Wars and of the Korean War/Alison Boggs, SR. More here. (Photo by Kathy Plonka/SR: Vietnam veteran Joe Wallace stands near an empty flagpole in Memorial Park in Kellogg on Friday.)
Question: I can think of few controversies that a local government can bungle into that are goofier than elected officials battling a veterans' group over placement of a U.S. flag. Can you think of anything?
---
---