TUESDAY, MAY 25, 2010, 10:56 A.M.
All-Star Catcher Attends Rassley Event?
Not only has Rich Piazza hit 427 less home runs, knocked in 1912 less RBIs, and played in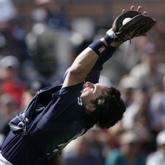 1,912 less games than former star catcher Mike Piazza, but he's never been named to an all-star game. But that didn't stop MC Andy Finney from introducing the Kootenai County commissioner as Mike Piazza. Now, you have to give Andy allowances for the mistake. The county commissioner was also listed as Mike Piazza in the program honoring Father George Rassley at Holy Family Catholic School for his many years of service to his faith and the local community. Some 200 to 250 parishioners attended the event. Councilman John Bruning, subbing for ailing Mayor Sandi Bloem, announced that the city is naming the men's homeless shelter and warming shelter in Rassley's honor. Piazza, Rich not Mike, BTW, had a good chuckle re: the mixup. (2006 AP File Photo of San Diego catcher Mike Piazza)
H/T: Cabbage Boy
Question: Have you ever been mistaken for a celebrity?
---
---