Tue., May 25, 2010, 5:10 p.m.
Musburger: Griz Should Stay In Big Sky
As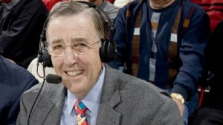 the NCAA gets ready to lift a moratorium on schools moving up to the Football Bowl Subdivision, Griz football fans are debating the pluses and minuses. Montana native and ABC and ESPN sports broadcaster Brent Musburger says such a move would be "economic suicide." Musburger was in Bozeman for a fundraiser for the Montana State women's golf team. Musburger says moving Montana up to the FBS would be a horrendous mistake and that the state could not support a FBS team/Associated Press. More here.
Question: Do you think the Montana Grizzlies should move up to Divison I or stay in the Big Sky Conference, which they dominate in football?
---
---