Tue., May 25, 2010, 1:29 p.m.
Nordstrom Rack Packs For Valley
Nordstrom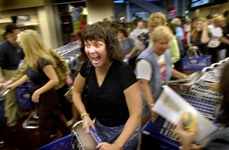 Rack is moving east, to be closer to the highway and closer to North Idaho. Those are the reasons given by the Seattle-based clothing retailer for leaving the NorthTown Mall and taking up a 30,000-square-foot space in the Spokane Valley Plaza. It expects the Rack, Valley version, will open in October. It's taking space last used by Linens 'n Things, in a triplex flanked by Sportsman's Warehouse and Old Navy, west of the Spokane Valley Mall. The Rack is the off-price division of Nordstrom that offers merchandise from other stores at significant discounts/Tom Sowa, Office Hours. More here. (SR File Photo: Shoppers pack the Nordstrom Rack in Northtown Mall as it opens in 2000.)Question: Are you more likely to go to Nordstrom Rack now that it has moved from North Town Mall to Spokane Valley Plaza?
---
---