Tue., Nov. 2, 2010, 9:22 a.m.
BNSF Fights New Environment Rules
BNSF Railway Co. is suing Kootenai County over new regulations proposed for the railroad's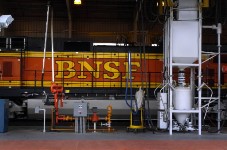 Hauser diesel refueling depot. The railroad – which refuels an average of 30 trains at the depot daily – says that operations at the site are governed by federal transportation law, and that counties lack the ability to impose their own rules. "Kootenai County does not have the authority to regulate freight railroad facilities or operations that are part of the interstate rail transportation system," according to the lawsuit, which was filed in U.S. District Court in Coeur d'Alene last week. The fueling depot lies over the Spokane Valley-Rathdrum Prairie Aquifer, which provides drinking water for more than 500,000 of the region's residents/Becky Kramer, SR. More here. (SR File Photo)

DFO: This is why you never ever give the railroad an inch, because once they shake down a local government for a conditional use permit they'll stonewall and sue through their battery of lawyers not to do a scintilla more to protect the environment. When I was on the editorial board, I fought tooth and nail against the refueling depot. Now, BNSF is showing its true colors. We never should have allowed these snakes to build that depot over our aquifer. Period.
---
---