Thu., Nov. 4, 2010, 1:18 p.m.
Idaho Blogs: GOP More In Control
If (Tuesday's) election in Idaho had been a Little League baseball game, it would have been called on account of the ten run rule. ...  As elections go, this one was a tidal wave. The huge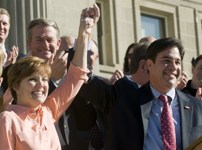 Republican majorities in the Idaho Legislature will soon enough face big challenges, including more budget cutting - potentially including education and social services - but the GOP and Gov. Butch Otter can bask, for a while at least, in the sure knowledge that voters were in no mood to punish them for historic cuts in school spending or for presiding over a still struggling economy. Quite the contrary, Idaho Republicans seem more dominate than ever against a dispirited, disorganized opposition/Marc Johnson, The Johnson Post. More here. (AP/Idaho Press-Tribune Photo by Greg Kreller: U.S. Congressman-elect Raul Labrador and his wife Rebecca.)
Question: Which wing is going to win the struggle for supremacy among Idaho Republicans -- Tea Party or moderates?
---
---