Thu., Nov. 4, 2010, 8:44 a.m.
Labrador Breaks Idaho Stereotype
Idaho elected its first Hispanic to represent the state in Congress on Tuesday, as Raul Labrador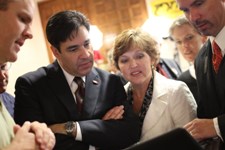 upset freshman Democratic Rep. Walt Minnick with a decisive 51 percent to 41.3 percent victory. Labrador, a conservative Republican state lawmaker and immigration attorney, said he thought the "first" was significant because it sent a message to the nation about Idahoans. "People have such a bad connotation of what Idaho represents," Labrador said, "a bad place, a racist place. I can't think of a better message for Idaho to send than to send a young man who was born in Puerto Rico, was raised in Las Vegas and was adopted by this state"/Betsy Russell, Eye On Boise. More here.  (AP/Idaho Press-Tribune Photo: Labrador with his wife Rebecca inside the Republican election night headquarters in Boise Tuesday.)
Question: Will the election of Puerto Rican Raul Labrador as a congressman help change the nation's view of Idaho?
---
---