Fri., Nov. 5, 2010, 1:10 p.m.
BNSF Has Fueled Us Before
In fact, says Geoffrey Harvey of the Idaho Department of Environmental Quality, traces of the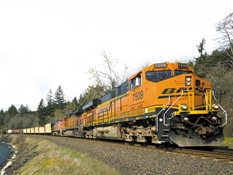 2004 leak are still detected in the aquifer. "It's still an open case. The cleanup standard in the aquifer is 'no detection,' which is a very high standard. There are a few polyaromatic hydrocarbons — which are components of diesel — that are still detected," Harvey says. The amounts are really, really tiny, he says, "but they are not below detection. And that's the rule for this aquifer because 500,000 people drink from it." The depot has a clean safety record since it reopened in 2005 after 74 days of court-ordered shutdown and $10 million in repairs, Harvey says/Kevin Taylor, Inlander. More here.
Question: Easily, the worst vote that a Kootenai County commission has made in my 26 years in Coeur d'Alene has been the 2-to-1 decision (Dick Compton & Dick Panabaker vs. Ron Rankin) to allow the railroad to build the refueling depot at Hauser. Can you think of something worse?
---
---