Fri., Nov. 5, 2010, 5:23 p.m.
Hunters Fend Off Aggressive Wolves
"The horses started freaking out," said Pitman, who first saw a group of wolves approaching no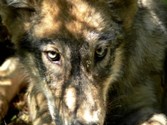 more than 30 to 40 yards away. Appleby saw them soon after. "There were seven or eight of them and they were running at us at full stride at first," said Appleby, who dashed toward the wolves to get his rifle. "I was about halfway there and I heard Raymond shoot with his .44 mag," Appleby wrote in his statement to Montana Fish, Wildlife and Parks. "When I reached my gun, I picked it up and the wolves stopped. I pointed my gun at them at about the same time they started to run at us again. At that time, I feared for my life and the horses and my friend and I started to shoot"/Jim Mann, Daily Inter Lake. More here.
Question: Still think Br'er Wolf wouldn't hurt a human?
---
---