Tue., Nov. 9, 2010, 1:12 p.m.
Column: Travel Renews Love For USA
Then, five months ago, all that doubt melted away. I spent the summer in Cairo and settled on three reasons why I love living in America: First of all, I adore the level of consistency here, and I'm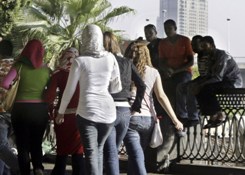 not talking about chain stores. I'm talking about that cozy feeling of being 99 percent sure that you won't be glued to the toilet for four days whenever you dine out or buy groceries. Second of all, I love aimless walks and bike rides. I learned pretty quickly that walking was not an acceptable mode of transportation in Cairo. Traffic is so horrendous because the city has deteriorated to the point where no one wants to be outside. ... Lastly, and most importantly, is freedom. I lost my sense of independence as a woman. ... As a single woman you get proposed too, stared at, followed, teased and whispered to/Noura E. Alfadl-Andreasson, North Idaho College Sentinel. More here. (AP file photo: Egyptian boys watch girls pass by at Nile bank in Cairo.)

Question: Has travel to foreign countries deepened your love for this country?
---
---