Tue., Nov. 9, 2010, 1:07 p.m.
Does Clagstone Meadows Make Sense?
Developers will justifiably point out that a planned unit development (PUD) like Clagstone has a lot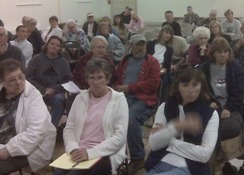 of advantages over development that occurs in bits and pieces over time. The area could instead randomly develop into small ranchettes, with little thought among them for open space, wetlands preservation, wildlife habitat, or water quality. A PUD, instead, clusters the housing on portions of the land while preserving a large amount of open space. Clagstone Meadows would have 1200 residential units on some 12,000 acres, but since the housing is focused in a small portion of the land, more than 10,000 acres of that would remain as open space and managed timberland/Cate Huisman, New West. More here. (KEA Blog file photo of opponents to Clagstone Meadows from late September meeting)

Question: Does it make more sense to have a planned unit development like proposed 1200-home Clagstone Meadows, in southern Bonner County (near Athol) than to allow the area to develop haphazardly?
---
---