Wed., Nov. 10, 2010, 9:13 a.m.
Marc: Cowboys'd Kick Pelosi To Curb
If a football coach - say for the Dallas Cowboys - had the kind of season that the leader of House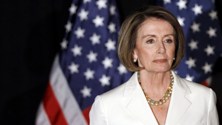 Democrats has had they would be looking for work. But, politics ain't football, obviously. Eight games into the season, the Cowboys tied the can to coach Wade Phillips. Someone had to be held accountable. This is the big time, after all. The final straw was the Cowboys' 45-7 drubbing by the Green Bay Packers on Sunday. Sorry Wade. You are the responsible party. It's been nice knowing ya. Nancy Pelosi suffered a loss just as lopsided, just as devastating to an historic franchise, but with no commensurate accountability/Marc Johnson, The Johnson Report. More here.
Question: Should congressional Democrats dump Nancy Pelosi in favor of a Minority Leader who connects better with the American public?
---
---