What's with all the buzz re: Fedora Pub & Grille (at Kathleen & Ramsey)? I hadn't paid much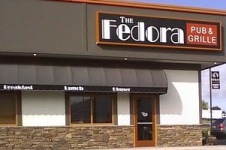 attention to the new restaurant in the old sauerkraut place until the Republican Pachyderm Club decided to change their hangout on Friday mornings from IHOP to there. Then, on Election Night, Old Guard Elephants hung out there while the Phil Hart Fan Club commandeered GOP HQ in Appleway Square. Then, the Reagan Republicans have announced that they're moving their meetings to Fedora. Now, CdANightOut tweets: "Have you been to Fedora and tried the Monte Cristo Sandwich special? Was in there today and it is a big hit!" What's up?
Question: How has the Fedora restaurant been able to gain so much attention so quickly?