Thu., Nov. 11, 2010, 8:47 a.m.
SR: Niehaus Called Helluva Game
Before he began narrating our summer nights, Dave Niehaus was third fiddle to Dick Enberg and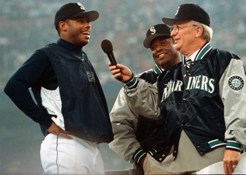 Don Drysdale in the broadcast booth of the California Angels, owned by the Singing Cowboy himself, Gene Autry. "David, you call a hell of a game," Autry once told Niehaus. "Not the game I'm watching, but a hell of a game." Niehaus told that story on himself upon his election to the broadcasters' wing of the Baseball Hall of Fame two years ago. The occasion called for stories, for humor and humility to leaven the treacly reverence in which the game loves to wallow – but without sacrificing the appreciation and respect due the moment. And this was Dave Niehaus' specialty/John Blanchette, SR. More here. (AP file photo: Dave Niehaus interviewing Ken Griffey Jr & Griffey Sr. in 1999)
Question: What did you appreciate most about Seattle Mariners Hall of Fame broadcaster Dave Niehaus?
---
---