Thu., Nov. 11, 2010, 5:42 p.m.
Veterans Day: 'Are We Worth It?'
Remember that opening/closing scene from "Saving Private Ryan" when the guy who got saved is walking among the rows of white crosses, wondering if he was worth the effort? Well, Cis/From A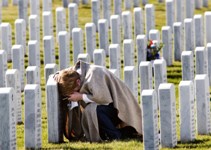 Simple Mind has a post today along the same lines. With Veterans Day on her mind, Cis points out that so many have died for us -- you and I and the rest of the country -- to preserve our freedoms. Then, Cis writes: "Which makes me wonder sometimes -- were we worth it? ... We have become a whining, sniveling bitching country. Nothing is good enough for us. We want everything now. And as our country sits on the edge,we citizen cry about us. What it is doing to us. We want the government out of our hair, yet blame it when we don't have what we want." (AP photo: Deborah Barr, of Ortonville, Mich., grasps her brother U.S. Navy HT1 Daniel Doule's gravestone earlier today in Holly, Mich.)
Question (from Cis): Are we worth it?
---
---