Fri., Nov. 12, 2010, 8:41 a.m.
Vestal: BNSF No 'Good Neighbor'
Remember Livingston. Whatever the outcome of the BNSF Railway Co.'s lawsuit against Kootenai County – in which the railroad argues that the county has no power to make sure it's not spilling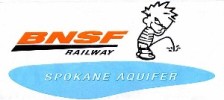 fuel into our drinking water – remember Livingston. Remember Livingston? It's a great little Montana town, full of artists and writers and good bars and perhaps a touch too much fly-fishing romance, in a valley named Paradise on the road to Yellowstone National Park. And it's got a Superfund site, where BNSF for years dumped diesel, solvents and asbestos into the soil and water – and then for years wrangled with the state and the people whose health and property it fouled. That's what things look like on the back end of a big BNSF problem/Shawn Vestal, SR. More here.
Question: Anyone out there willing to say a good word for the railroad?
---
---