Mon., Nov. 15, 2010, 8:26 a.m.
OTV Review: Qdoba
Like a hot, greasy burger patty sliding off a stainless steel spatula onto an awaiting bun, some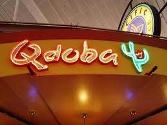 eateries just don't stick with me. Sometimes I'll drive around wondering where to eat and certain restaurants don't even pop out and beckon my attention at all. Eventually, I might notice them and think "of course, it was there the whole time", but even after I finally make a visit or two, I'm still left with a blank, with nothing especially memorable to report, but no real complaints either. So it was with Qdoba Mexican Grill, a place located less than a mile from my home which I'd driven past dozens, if not hundreds of times over the years but had never bothered to investigate until recently/OrangeTV, Get Out! North Idaho. More here.
Question: Without clicking on the link, do you think OrangeTV gave Qdoba thumbs up or thumbs down?
---
---