Thu., Nov. 18, 2010, 2:01 p.m.
Fox News Ailes Apologizes For 'Nazi' Slip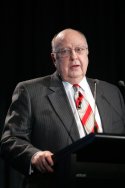 Fox News chief Roger Ailes (pictured in AP file photo) apologized Thursday to Abraham Foxman, national director for the Anti-Defamation League, after calling NPR executives "Nazis" in an interview with The Daily Beast. Ailes, in a letter, began by following up on "the Glenn Beck situation with regards to George Soros" before getting into his own references to the Third Reich. "This morning you might be receiving calls because I used the word 'Nazi attitudes'  to describe the NPR officials who fired Juan Williams," Ailes wrote. "I was of course ad-libbing and should not have chosen that word, but I was angry at the time because of NPR's willingness to censor Juan Williams for not being liberal enough"/Michael Cordelone, The Cutline. More here.
Question: Do we use the word "Nazi" too much in our culture to describe people or organizations with which we disagree? And/Or Is there any value to these kinds of forced apologies?
---
---