Thu., Nov. 18, 2010, 8:01 a.m.
Trader Joe's Coming To South Hill
Trader Joe's, the nationwide chain that's created a legion of food-loving fans, announced it will open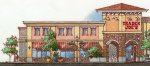 its first Spokane store next year. The Southern California-based company confirmed Wednesday it will lease a 12,000-square-foot building on Spokane's South Hill. That building will be constructed at the Lincoln Heights Shopping Center, at 29th Avenue and Regal Street, next to the existing Hogan's Restaurant. The specialty grocery chain has considered opening a Spokane store for several years. Earlier this year it started looking seriously at Spokane's South Hill, said Jeff Ottmar, who works for a Spokane company that represented property owner Lincoln Heights Center LLC/Tom Sowa, SR. More here. (Artist conceptual drawing courtesy of Trader Joe's)

Question: Can someone explain the excitement some of you have re: the opening of a Trader Joe's in Spokane?
---
---