Tue., Nov. 23, 2010, 12:05 p.m.
Hi-Noon: Prayers For CdA-Bound Fam
One of my Facebook friends is asking for prayers for two of her "invincible" teenagers who are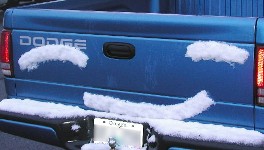 traveling home from Utah today. Seems they've already had to change routes once because I-15 is closed north of Idaho Falls. So they headed west/north from Pocatello through Boise and then the Tri-Cities. I probably shouldn't mention this here. But my wife's sister and her husband are trying to find their way home from Boardman, Ore., after rolling their pickup on I-84 around 6:30 last night. They were OK. Their pickup was totaled. Now, we're warning our daughter and her boyfriend not to try to make it home Wednesday for Thanksgiving. (AP file photo of pickup stopped in The Dalles, Ore., in Columbia Gorge)

Question: How about you. Has the snow and arctic freeze changed travel plans for family and friends headed to the Coeur d'Alene area?
---
---