Wed., Nov. 24, 2010, 9:05 a.m.
Ohio State Prez Disses Boise St, TCU
Even if TCU and Boise State run the table, they still don't deserve to be in the Bowl Championship Series title game, Ohio State president E. Gordon Gee said Wednesday. In an interview with The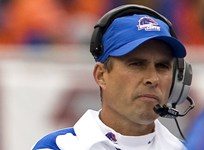 Associated Press, the president at the university with the largest athletic program in the country said that TCU and Boise State do not face a difficult enough schedule to play in the national championship game. "Well, I don't know enough about the Xs and Os of college football," said Gee, formerly the president at West Virginia, Colorado, Brown and Vanderbilt universities. "I do know, having been both a Southeastern Conference president and a Big Ten president, that it's like murderer's row every week for these schools. We do not play the Little Sisters of the Poor. We play very fine schools on any given day"/Associated Press. More here. (AP file photo of Boise State football coach Chris Petersen)

Question: Do you agree with Ohio State prez E. Gordon Gee that Boise State and TCU play 'Little Sisters of the Poor' in beefing up their football records?
---
---