TUESDAY, NOV. 30, 2010, 11:37 A.M.
Idaho Guards Watch Inmate Attack
The surveillance video from the overhead cameras shows Hanni Elabed being beaten by a fellow inmate in an Idaho prison, managing to bang on a prison guard station window, pleading for help.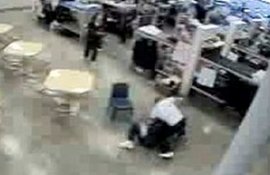 Behind the glass, correctional officers look on, but no one intervenes when Elabed was knocked unconscious. No one steps into the cellblock when the attacker sits down to rest, and no one stops him when he resumes the beating. Videos of the attack obtained by The Associated Press show officers watching the beating for several minutes. The footage is a key piece of evidence for critics who claim the privately run Idaho Correctional Center uses inmate-on-inmate violence to force prisoners to snitch on their cellmates or risk being moved to extremely violent units/Rebecca Boone, AP. More here. (AP photo: An inmate attacks fellow inmate Hanni Elabed at the privately-run Idaho Correctional Center.) H/T: Bent.
Question: Should Idaho farm out oversight of prisons to private companies? And/or: Do you care if inmates beat on one another?

---
---