Thu., Oct. 7, 2010, 9:48 a.m.
Vik Footballers Best In Region
Perhaps the best football team in the region this year doesn't reside in the Greater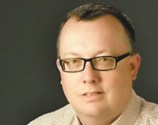 Spokane League. I suspect that team is about 32 miles east of Spokane. We can't know if Coeur d'Alene is truly the best team in the area because the GSL and Inland Empire League teams aren't playing this year as they have in recent seasons. I'd love to see a game between Ferris and Coeur d'Alene. That would settle the question for me. Over in Idaho, Coeur d'Alene is making a case that it's one of the best teams in the state, if not the best. Last Friday, the Vikings (4-1) knocked off No. 1-ranked Rocky Mountain of Meridian 34-22. CdA moved from fifth to second in the poll this week/Greg Lee, SR. More here.
Question: I watched and enjoyed Coeur d'Alene High's 34-22 victory over then No. 1 Rocky Mountain last Friday. My son played for the Viks. I had forgotten how much fun high school football can be. How about you? Do you attend any prep football games?
---
---