Fri., Oct. 8, 2010, 9:38 a.m.
Gookin: Prosecutor Ignores Corruption
In one of the more entertaining threads on the Coeur d'Alene Press online Web site, Dan Gookin now is claiming that there's corruption in the Kootenai County prosecutor's office. The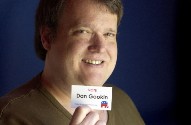 accusation comes from out of thin air, as much of the thread involves a three-way tag team among Dan, his sidekick Mary Souza, and a relative new commenter, Bumblebee. They're involved in a three-way melee re: the Brannon-Kennedy case (of course) and Mary's performance as a city planning commissioner when Gookin proclaims that his ability to root out corruption in the community is thwarted by a prosecutor who won't uphold the law. Then, Gookin comments: "Perhaps that $100,000 art grant that the City gave his wife has some roll in that, I wouldn't know. But because of the way Idaho is structured, if a County Prosecutor is unwilling to uphold the law, the citizens can go pound sand. Idaho is broken that way, and as such it has become one of the most corrupt states in the Union." Then, he says he hopes that the feds will some day "swoop in here and clean up the mess. I can only wait." Complete thread here.

Question: Does anyone out there really believe the claim made by the forces of Gookin that local government is rife with corruption, especially after the Brannon verdict?
---
---