Wed., Oct. 13, 2010, 8:31 a.m.
Bill's Contempt Dismissal Angers Mary
RE: Contempt charge dropped: McCrory, attorney ask judge not to dismiss suit/Tom Hasslinger, CdA Press

At OpenCDA.com, Mary Souza can barely contain herself re: the grave injustice suffered by her sidekick, Bill McCrory, Tuesday afternoon. Seems she's in a huff that Judge Charles Hosack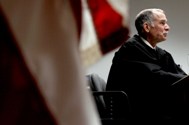 simply dismissed contempt of court charges against Bill when she was planning to make a reappearance in his courtroom. Well, there's a bit more. By dismissing the charges as he did, the judge blocked "the evidence compiled at great effort and cost by Bill's attorney and the witnesses they arranged to testify." Mary conjectures that Hosack did not want to hear " ... why the charges were not grounded in law and why the complaint was frivolous.  The judge did not want to assign fees." Seems Mary, who admits she's holding herself back, sees a great wrong in all of this -- McCrory being forced to pay beaucoup bucks for an action she blames on Mike Kennedy and "close supporter and HBO commenter Christa Hazel." But she continues to say nothing of the approximate $60,000 that Mike Kennedy has to pay simply by having the misfortune of beating sour-grapes challenger Jim Brannon. Amazing. Mary's comment here.
Question: Shouldn't Mary be happy that the contempt charges against McCrory were dismissed?
---
---