Wed., Oct. 13, 2010, 1:10 p.m.
Dennis: Republican Vs. Republican
Today marks the start of the trial in Federal Court between the Republican Party of the State of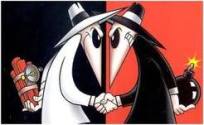 Idaho Vs. the Idaho Secretary of State. Say what? Yep, in Federal Court the GOP is suing  the Sec. of State for Idaho (who is a Republican). Yes. in a way, it's like Mad Magazine's old Spy vs Spy. ... So what? It is a trial of huge perportions, because it is a trial the outcome of which will mold the future of the state -- who will run for office, who will serve in office and what policies will be followed for education, for the sanctity of life, for spending and for so many other vital issues. It's a big deal. Big enough to go to Federal Court/Dennis Mansfield. More here.
Question: Do you agree with the attempt by the state Republican Party to close primaries?
---
---