Fri., Oct. 15, 2010, 9:17 a.m.
White House Invites Hero's Family Back
Item: No trick ... Bakers in for a treat: Family of World War II hero to spend Halloween at White House/Brian Walker, Coeur d'Alene Press
More Info: "The president and first lady are inviting some military families - including the Bakers -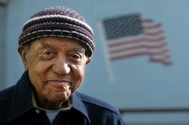 to go trick-or-treating here at the White House and then attend a Halloween party," said Adam Abrams, White House spokesman. "While the Bakers are here in Washington, we look forward giving them a West Wing tour." Baker's widow, Heidy, her daughter, Alexandra Pawlik, and grandson Vernon Pawlik, 10, all of St. Maries, were denied entry to the White House last month because the boy was wearing shorts and a T-shirt, which happened to have a photo of the war hero.
Question: Do you consider this invitation to be a good resolution to the recent flap in which the Bakers were denied access to the West Wing?
---
---