Tue., Oct. 19, 2010, 8:49 a.m.
Palin: GOP Getting 'Last Shot"
Former Alaska Gov. Sarah Palin (R) said she could conceive of a third party in U.S. politics if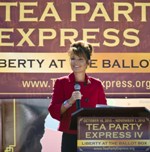 newly elected Republicans stray from their principles. Palin, the 2008 GOP vice presidential nominee and potential candidate for president in 2012, said the next two years will be some Republicans' "last shot" to prove themselves as authentic conservatives. "Some in the GOP, it's their last shot," Palin said Monday evening on Fox News. "It's their last chance, and we will lose faith and we will be disappointed and disenchanted from them if they start straying from the bedrock principles that can grow our economy/Michael O'Brien, The Hill. More here.
Question: Is it finally time for a third party in this country?
---
---