Tue., Oct. 19, 2010, 9:03 a.m.
Westboro Targets NIC Play Twice
(Westboro Baptist Church) will be picketing "The Laramie Project" 8 -8:30 a.m. Friday outside Boswell Hall. According to WBC, their reasoning for this picket is "to preach some truth to the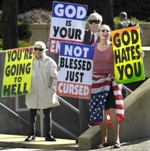 audience and cast of this fag propaganda play of lies." ... WBC will also picket outside Boswell Hall closing night of "The Laramie Project," Oct. 30 from 6:45-7:30 p.m. "I was really surprised," Jacoby said in regards to finding out that the WBC would be picketing the production. "We had hardly even started publicity. How we managed to land on their radar was my first biggest question. We're in Coeur d'Alene, Idaho, pretty well off the beaten path. We're a two-year school. I was sure this was not going to fall on their radar, but somehow they did. They must've seen the audition notice in the last week of August"/Shauna DeMerritt, North Idaho College Sentinel. More here. (AP File Photo of Fred Phelps, dark glasses, and family)

Question: Have you ever seen the play, 'The Laramie Project'? Do you plan to do so some day?

---
---