Thu., Oct. 21, 2010, 3:30 p.m.
Task Force To Discuss Westboro, Rally
The Kootenai County Task Force on Human Relations is holding a press conference and peaceful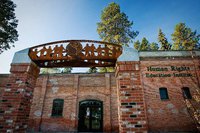 rally, in response to the WBC protests throughout the community, on Friday, October 22 at 9:00 AM at the Human Rights Education Institute Center in Coeur d'Alene. The Center is located on Mullan Road adjacent to the Coeur d'Alene City Park. The joint press conference and rally will feature statements by America's veterans, religious leaders, youth, educators, government officials, business and labor leaders, representatives from the Coeur d'Alene Tribe, law enforcement and the minority communities.
Question: Which approach to the Westboro Baptist Church do you prefer -- passive resistance and a rally as advocated by Kootenai County Task Force on Human Relations or direct confrontation in a counter-protest?
---
---